Everyone is a little happier behind the wheel with a clean car and scent that they love. Now it's easier than ever to get the perfect scent all thanks to Febreze. They have looked to the stars to find everyone their perfect matched scent for their car.
That's right — they have partnered with Astrologist Aliza Kelly to launch their Febreze CARstrology Collection where they have crafted a signature scent for each zodiac sign.
Aliza Kelly explains, "The Febreze CARstrology pairings specifically reflect the core essence of each astrological archetype and what that sign needs most when on the road. After all, the journey is the destination, so why not have a fabulous driving experience?"
Everyone knows their Sun sign, and how awesome would it be to tell your friends that your car matches your astrological essence? Every drive will feel like you with your perfectly matched car scent.
You can get your Febreze CAR scent now, which are sold in retail stores across the nation and start as low as $3.49. And not only have they launched this super awesome collection, but they are offering a giveaway, too!
That's right! Febreze will be giving away a limited amount of the CARstrology Collection in keepsake zodiac-themed boxes. The giveaway is open from May 3, 2022, at 9:00 AM ET through May 31, 2022, at 11:59 PM ET.
If you are interested in entering, head to FebrezeCARstrology.com. Winners will be chosen randomly and notified around June 1, 2022.
ARIES
Scent: Febreze CAR Ember
Photo: Febreze
Bold, brave, and iconically competitive, Aries are attracted to anything that sets their world ablaze. Febreze CAR Ember is the perfect addition to Aries' fast-and-furious lifestyle: An invigorating blend of mandarin and amber melds with the surprising scent of lava.
TAURUS
Scent: Febreze AUTO Lush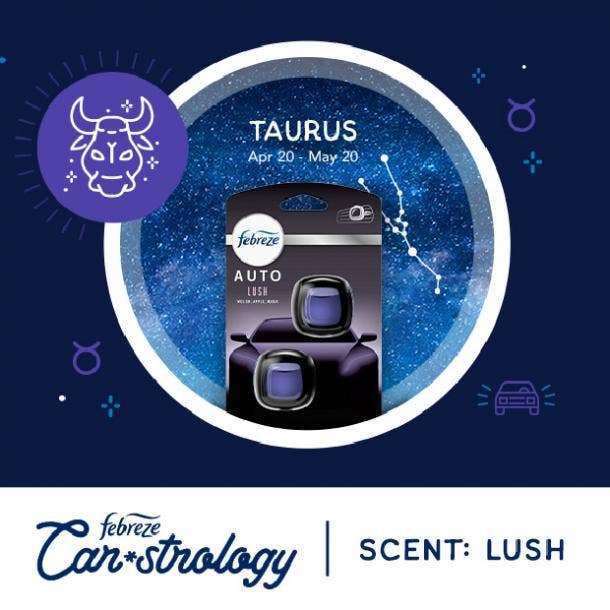 Photo: Febreze
These iconic celestial bulls are known for their sophisticated palates, and have deep reverence for the finer things in life. The sweet vanilla scent of Febreze AUTO Lush — with perfectly paired notes of melon, apple, and musk — is guaranteed to offer Taurus a burst of floral freshness during every ride.
GEMINI
Scent: Febreze CAR Unstopables Fresh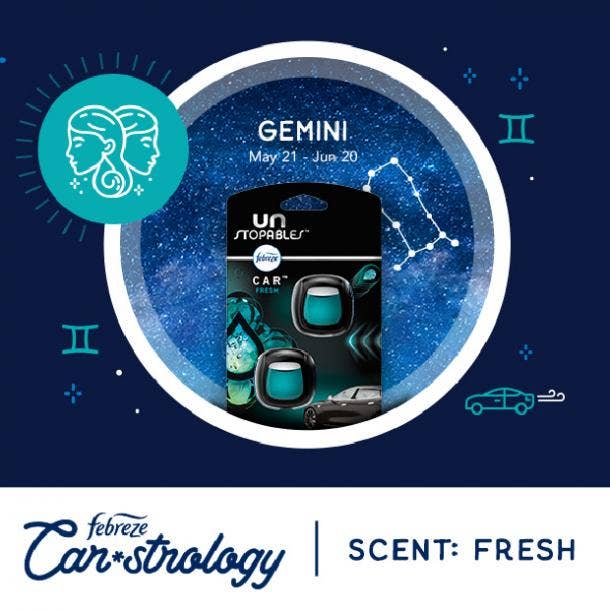 Photo: Febreze
Gemini is the fast-paced, high-intensity, ultra-spontaneous social butterfly of the zodiac. This air sign brakes for no one, so cruising in style is absolutely essential. Febreze Unstopables CAR Fresh is guaranteed to be Gemini's next obsession.
CANCER
Scent: Febreze CAR Gain Moonlight Breeze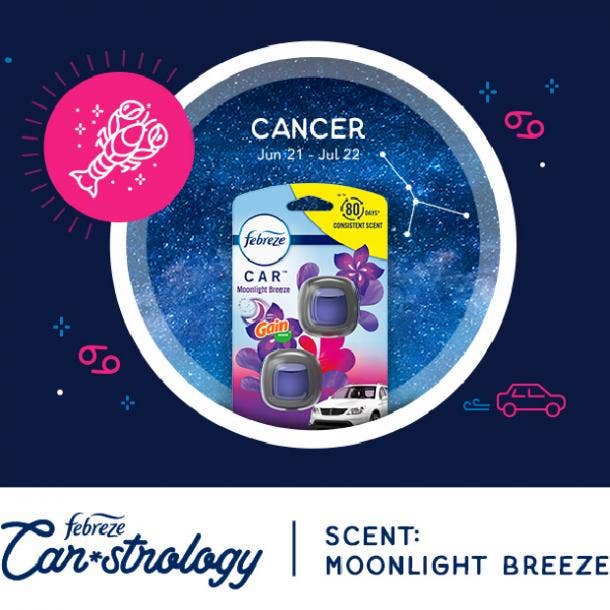 Photo: Febreze
Cancers value tranquil environments that evoke a sense of calm, making the ethereal scent of a Febreze CAR Gain® Moonlight Breeze the perfect match for this mystical water sign.
LEO
Scent: Febreze CAR Unstopables Paradise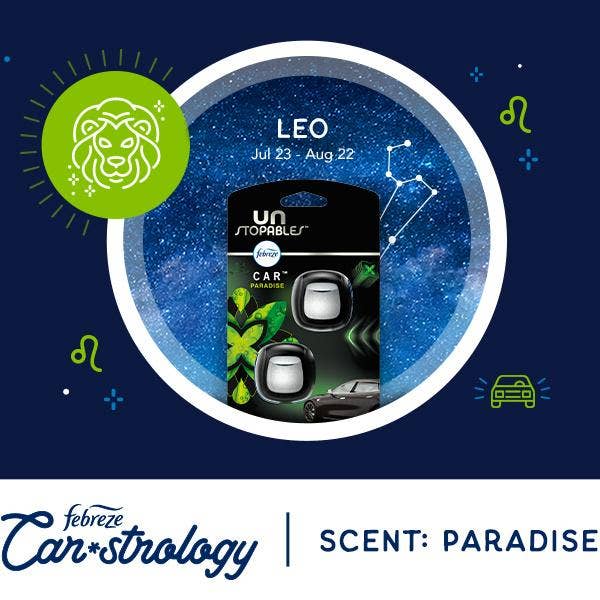 Photo: Febreze
There's nothing Leo loves more than velvet ropes, VIP passes, and exclusive trips to exotic destinations. Febreze Unstopables CAR Paradise is warm, inviting, and very luxe, which means Leos will be enveloped in their signature aroma, best described as "fame and fortune."
VIRGO
Scent: Febreze CAR Linen & Sky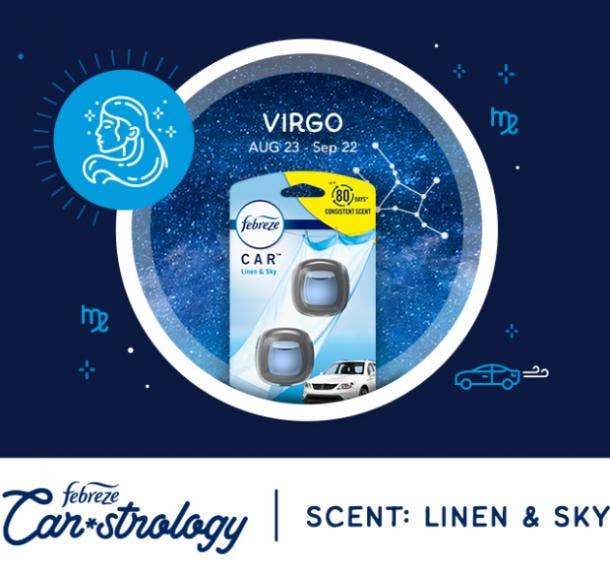 Photo: Febreze
Minimalists at heart, Virgos appreciate anything that helps streamline, organize, and structure — which means they love new twists on old favorites. Febreze CAR Linen & Sky effortlessly captures Virgo's timeless essence and brings the crisp, clean fresh-off-the-clothesline scent on the road.
LIBRA
Scent: Febreze AUTO Leather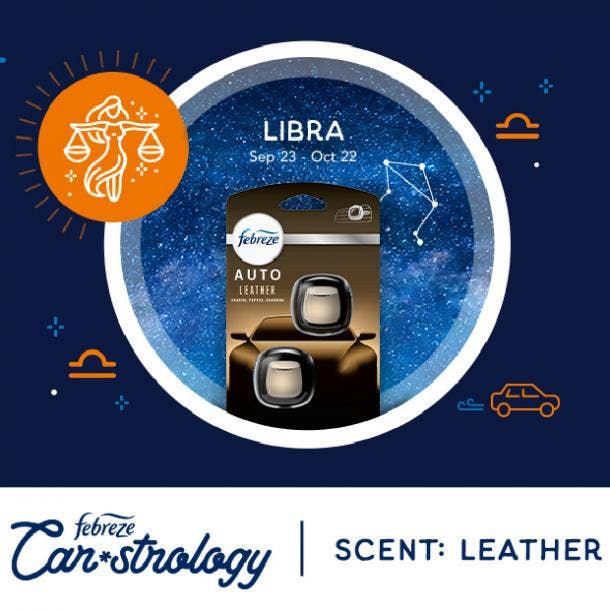 Photo: Febreze
Libras love to surround themselves with objects of beauty, curating well-appointed environments that reflect their sophisticated style. The luxurious tonka, wood, and amber scent of Febreze AUTO Leather (which also boasts notes of hearth, pepper, and bourbon) lets Libras easily upgrade their rides from drab to fab.
SCORPIO
Scent: Febreze AUTO Midnight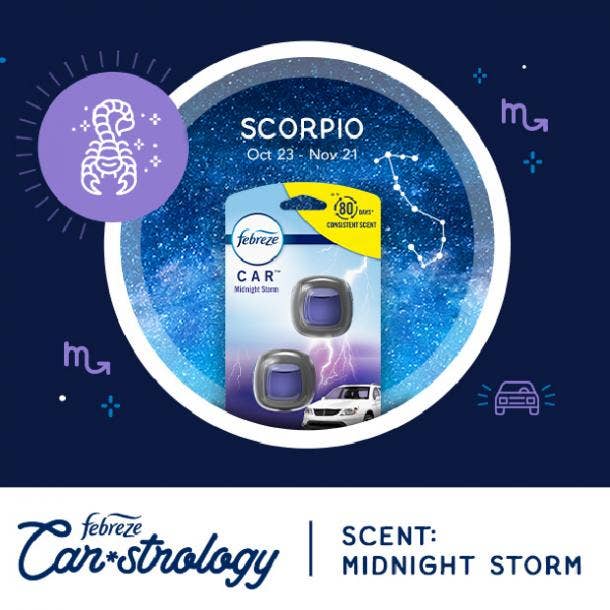 Photo: Febreze
Scorpios are renowned for their spellbinding allure, and when the clock strikes 12, this sultry sign comes out to play. Thanks to Febreze CAR Midnight Storm, every ride can turn into a vibe!
SAGITTARIUS
Scent: Febreze AUTO Wilderness
Advertisement Are you ready for a relationship? Click here to get clarity with a psychic reading!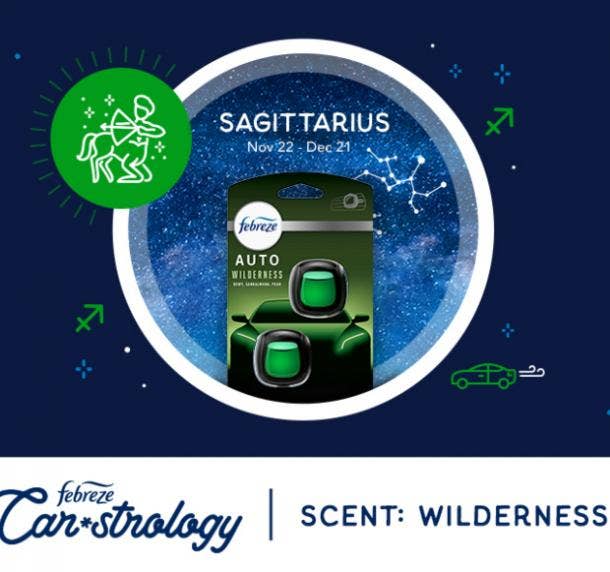 Photo: Febreze
Sagittarians are defined by their expansive enthusiasm and infectious optimism. Although it's hard to keep up with this fire sign, you can catch a whiff of Febreze AUTO Wilderness as Sagittarius comes cruising by with the earthy, citrus, and floral scent of Wilderness.
CAPRICORN
Scent: Febreze AUTO Evening Woods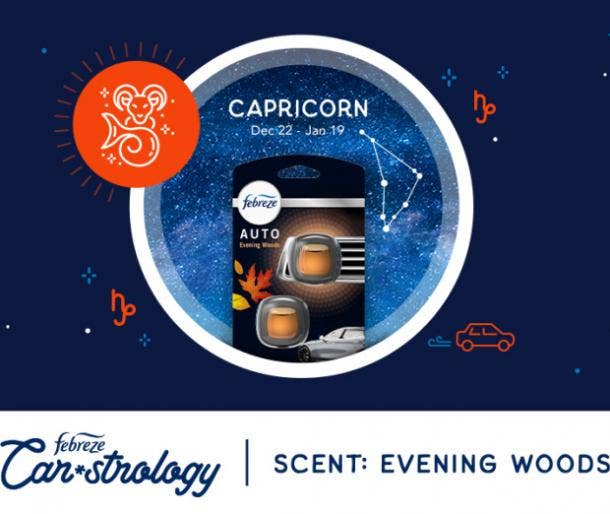 Photo: Febreze
Related Stories From YourTango:
Capricorns are willing to climb the highest mountains to reach their ambitious, long-term goals. So when the long day comes to a close, Capricorns can turn to Febreze AUTO Evening Woods to tap into their earthy sensibilities and go on a long, meditative drive.
AQUARIUS
Scent: Febreze CAR Platinum Ice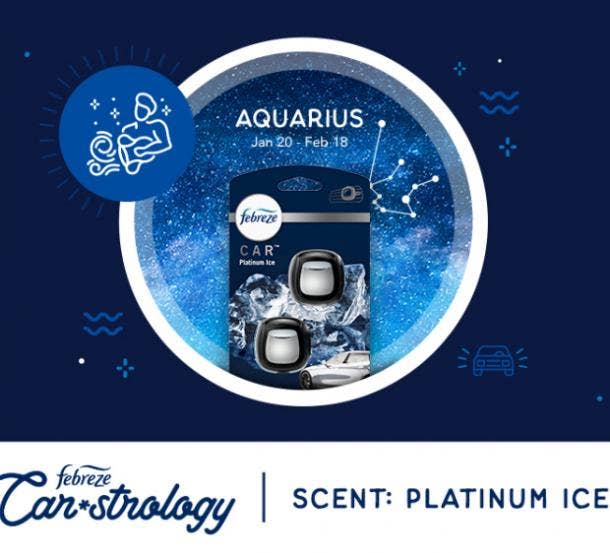 Photo: Febreze
Free-thinking, independent, and totally unique, Aquarians will drive on with the cashmere-smooth, patchouli scent of Febreze CAR Platinum Ice.
PISCES
Scent: Febreze CAR Ocean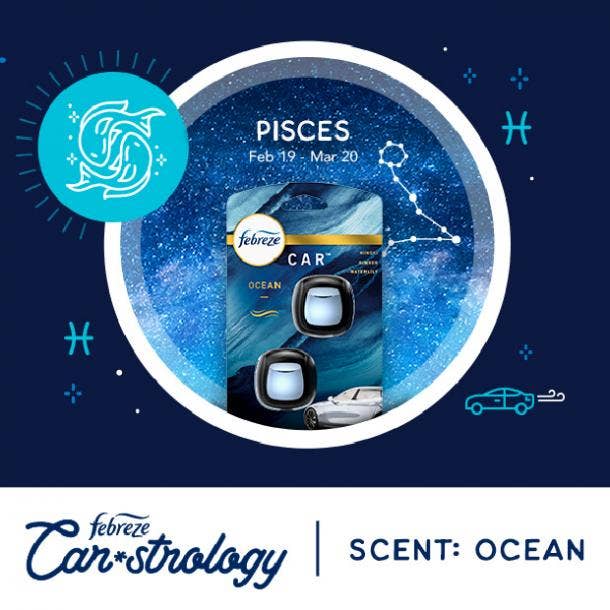 Photo: Febreze
Pisces is constantly swimming between fantasy and reality, a skill that translates directly into Pisces' artistry. With the edgy-fresh vibes of Febreze CAR Ocean enhanced by notes of ginger, waterlily, and hinoki, Pisces will be sure to ride the waves… of the highway.
Don't miss your chance to win your very own Carstrology car vent clip, so enter today! Or, head down to your local Target or Walmart and get your car smelling fabulously you!
-Sponsored by Febreze
More for You on YourTango:
Febreze is an American brand of household odor eliminators manufactured by Procter & Gamble. It is sold all over the world and has been around since 1996.