Astrology and the Australian Election 2022
The current Prime Minister of Australia, Scott Morrison, has chosen an unhelpful date for the 2022 election. The astrology of the 2022 Australian election shows delayed results, reshuffles during the campaign as well as post election, wrong calls by the media and a high chance of a hung parliament.
Samantha Maiden posted this image of the two party leaders from her news.com.au website on Twitter as it happened. When we look at the astrology chart for Australia's 2022 election, though, it's not about two men. Not by a long shot.
Latest Final Results by 14th June
Results in some seats or with some candidates may be as late as Tuesday 14th June. Morrison has chosen polling day as Saturday 21st May 2022 and we're in for some flux. The astrology of this election in Australia shows recounts, retracted statements and reversals. (Image: Unsplash).
The Albanese and Morrison Natal Charts
In a word, we don't have them. Astrologers are still waiting to see birth times from either politician. The Morrison chart is rated X so we can't use it. I have gone as far as I can with the Anthony Albanese astrology chart, here – with no birth time.
The Simple Astrology
The winning Prime Minister and government, including any powerful independents on the cross-bench, will spend the first full year in power, under Pluto in Aquarius. Pluto shows us who/what is in control. This is the group. It's not the usual two party system dominated by men. This new future begins in March 2023.
Pluto in Aquarius is Calling Australia
Aquarius as a sign, was defined way back in 1971 by the American astrologer, Rex E. Bills in The Rulership Book (American Federation of Astrologers, Arizona). This is interesting because it was published over 50 years ago (left). Pluto in Aquarius from 2023 is power with:
Electrical manufacturers and dealers (like the Elon Musk car company Tesla)
Labor organisations
Progressives
Rebels
Reformers
Senators
What to Watch in Astrology for Election 2022
This is a Mercury Retrograde election. Postal and early voting will surge, because people want to avoid COVID-19 infection in long queues. Mercury turns Retrograde Shadow on Saturday 30th April and turns retrograde on Tuesday 10th May. Postal votes are particularly delayed, in this period, because Mercury rules the mail. This is also when opinion polls will begin to show the wrong results, as we'll discover later.
Voter Registration – Generation Aquarius
As 18-year-olds born in 2004, every new voter has Neptune in Aquarius. Any issues with computers or other classic Mercury Retrograde concerns (paperwork) will affect these first-time voters. They may contribute to the likelihood of a hung parliament and recounts, along with delayed results. They are far more likely to vote with their friends, and to vote for politicians who respect diversity. So – women – in particular.

Mercury Retrograde is notorious for extreme weather (floods) and also strike action (affecting transport and travel) but also hacking (computers) and power outages. This may also play a part in what is going to be a very unusual election.
Independents' Day
Green and Independent votes may see a hung parliament. Mercury Retrograde is associated with whatever hangs, or is suspended. This also fits with the idea of Aquarian weather approaching. The power is with a very mixed bunch of people. Not with the two-party system controlled by one man.
More Independents and Greens
So, more independents and/or Greens seems likely, given what we are seeing from March 24th 2023, until January 19th 2044, when the cycle ends. Pluto in Aquarius is calling to 2022 and by all the laws of astrology, what happens in Canberra this year, has to result in rolling power for a wide range of parties/views/ideals.
Will 1940 Repeat Itself?
Will 1940 repeat itself? That is when Labor saw a big swing in its favour in Australia but fell short of a majority. I have to say, we're back there with the astrology. As in 1940, in the year 2022, Uranus is in Taurus. That is a picture of a revolution in the economy.
Endless Negotiation
Because Scott Morrison called the election on Mercury Retrograde, we may see weeks of negotiation and bargaining, if we have a hung parliament. Remember Julia Gillard, Tony Abbott and 2010? That took 17 days of bargaining. That year, 2010, we also saw Mercury Retrograde in Taurus, which happens again in 2022, right across the pre-election period and the aftermath. We may see 'Talk, talk' for a long time from May 21st.
Delayed Postal Votes and Computer Issues
Mercury Retrograde rules stop-start negotiation and bargaining; delayed or lost postal votes; computer or weather issues affecting voters; recounts – and general muddle. It is very common for a result to be unknown for days, or even go to the courts. Another possible outcome is a Labor loss, in Australia, but a mutiny against Scott Morrison by his own party, so we end up with a new Prime Minister – but also a minority Liberal-National Party government – again, this would be a hung parliament, but in a different way. (Image: Unsplash).
Ignore the Polls
People are going to change their minds on this election. Mercury is words. Retrograde is going back. People will go back on their word – what they told pollsters on the telephone – so do not trust what you are reading or hearing. We are very likely to see issues with mobile phones in general, as well as social media. You put the 're' prefix in front of everything on Mercury Retrograde so this is rescheduling, product recall, retracted promises, and so on.
Swinging Voters
We judge the mood of swinging voters, who have not made up their minds, by the dominant signs on the day. What is the mood, the emotional weather? We have a stellium in Aquarius on the day.
This is very important with the age of the voting population then: Generation Aquarius, born between 30th January 1998 and December 30th 2003 with both Uranus and Neptune in Aquarius, will be as their most 'Aquarian' when they come to vote. In certain electorates that could mean more independents arrive, or a big swing against Scott Morrison. These voters aged 19 to 24 (Millennials) are the future. They will decide the future on the day. Many of them will 'decide' before May 21st then change their mind at the ballot box.
Predictably murky (Murky Retrograde) and messy issues will be Gemini matters: pamphlet advertising, posters, Tik-Tok, Twitter, Facebook and so on. People reneg on Mercury Retrograde.
The Aquarian Trends on Voting Day
Moon in Aquarius
Saturn in Aquarius
Vesta in Aquarius
IC (Immum Coeli) in Aquarius
Bacchus in Aquarius
That Election Day weather, is strongly Aquarian. Aquarius is about diversity and equality, so women's issues, gay, transgender and lesbian issues will play a bit part in this vote. Most new candidates in Australia for this election are women. The other big concern is Climate Emergency. How interesting that Aquarius has long been associated with 'electrical inventions' – like the electric car.
That's not Barnaby Joyce and it's not Scott Morrison.
What the Tarot Says
I knocked my Smith-Waite Tarot deck over when I was writing this feature. The cards fell in a pattern on my office floor, so I'll read it. It shows the chaos of this election. None of the cards landed upright. They are all sideways, or spinning. Australia 'lands' in quite a random state. I can see Brittany Higgins here, as I publish this on Sunday 10th April. There she is, twice, in her famous white outfit. Can you see her? She's important. You can see The Fool, falling out of the picture, down the bottom. Who or what is The Fool to you? He's going.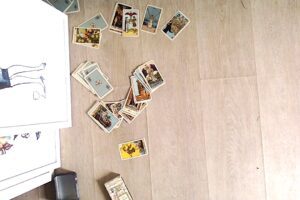 The Astrology of the Australian Election 2022 – Horoscope for 21st May
This is set for 6.00pm in Canberra, the capital, at the close of polls on 21st May 2022. This uses the Natural House System and modern astrology, from our Family and Friends software, on this website. The Tarot cards which fell 'randomly' on my studio floor, do show up in the chart below.
Proserpina at 0 Sagittarius in the Ninth House of foreigners and foreign countries is under opposition from the Sun and Mercury Retrograde both at 0 Gemini. So that's the first thing to look at here.