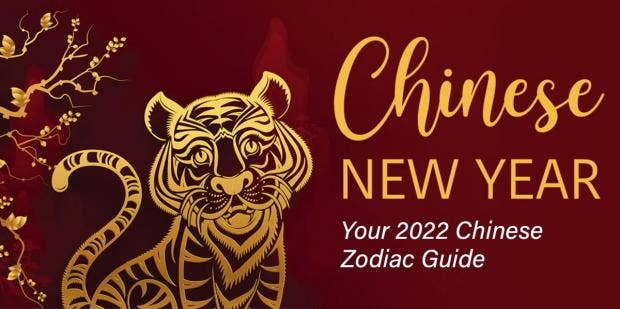 It's the year of Ren Yin, the Yang Water Tiger, who will usher in the Chinese New Year. What does this mean for your Chinese zodiac sign? The zodiac predictions for each sign are below.
New Year is celebrated so one can have new chances. A fresh start. You want new things for yourself.
Life will throw your way opportunities and difficulties. But you have to be ready to face whatever is thrown at you. Those who put in the effort and have a goal in their minds will be successful.
The year of the Water Tiger 2022 starts from February 1st, 2022, and ends on January 21st, 2023.
According to the Feng shui Destiny Analysis, known as the Four Pillars of Destiny, when the elements mix and collide, water and wood, which symbolize wisdom and courage respectively, are the two most crucial aspects this year. This combination of components denotes a new beginning, a fresh start in a new year.
By following Feng shui's advice and guidance, one may escape the difficult period that the Year of the Tiger brings and mitigate its negative impacts and progress toward prosperity.
Here's what 2022 has in store for you, based on your Chinese zodiac sign.
1. Rat (1948, 1960, 1972, 1984, 1996, 2008, or 2020)
This year, your focus should be on self-improvement and accomplishment. Keep your cool. Maintain a healthy diet and exercise routine.
Due to your success, you may get complacent and disregard your health. So, take precautions. You will have challenges, but you will be able to conquer them. It would be beneficial if you just spent money on needs.
This is also the year to pursue your ambitions. You will make new friends. Singles may attract new individuals, while couples must manage their time.
Lucky colors: red and blue.
2. Ox (1949, 1961, 1973, 1985, 1997, 2009, or 2021)
You will have to make time to process your feelings. Take good care of your family's health. To reach better levels of productivity, maintain positive connections with co-workers.
Both your career and financial luck are in your favor. Keep an eye out for any unexpected charges.
Prosperity Star is a tool that can help you succeed financially. It's a year of good partnerships; single individuals may discover a suitable companion, while married couples will have a year of pleasant interactions.
Overall, this will be a fruitful year.
Lucky colors: red and yellow.
3. Tiger (1950, 1962, 1974, 1986, 1998, 2010, or 2022)
You might be able to get and keep help and support this year. As your career luck improves, success will come your way. Set specific goals to get your desired end.
Pay attention to your feelings. Minor diseases and mood swings might be a problem for you. Concentrate on maintaining a healthy diet and lifestyle. This is a fantastic year for your professional life.
Even if the financial benefits are great, limit your spending to necessities. You could be putting your trust in the wrong person. Don't allow your emotions to get the best of you.
Lucky colors: orange and blue.
4. Rabbit (1939, 1951, 1963, 1975, 1987, 1999, or 2011)
The level of excitement and energy will be at an all-time high. Give it your all to enjoy the rewards of success. In terms of health, it will be a fantastic year. As much as possible, rest. Keep wrath and stress at bay.
With your job, you're in luck. There will be new opportunities thrown your way. Wealth is good. Relationships will bloom, but don't let your emotions get the best of you.
Singles will have a chance to meet a spouse, while married couples will be able to relax in a comfortable setting. Quarrelsome Stars, on the other hand, may cause issues.
Lucky colors: green, purple, and orange.
5. Dragon (1940, 1952, 1964, 1976, 1988, 2000, or 2012)
A bevy of good stars supports the Zodiac. You will have a lot of good fortune and emotional ups and downs, but don't make hasty judgments and set your sights high.
If your mental health is in jeopardy, put your faith in those you can trust. Allow your thoughts to unwind. Keep track of your expenditures and stick to a spending plan.
As a result of the possibility of misunderstandings, singles should be more communicative. Those who are married may have arguments. Thus, maintain your lines of communication open.
Lucky colors: yellow and white.
6. Snake (1941, 1953, 1965, 1977, 1989, 2001, or 2013)
There will be concerns. Disease and disasters must be avoided. If you are having trouble focusing, modify your lifestyle. Keep a cheerful disposition. New opportunities will reveal themselves since career luck is on your side.
Money will flow easily thanks to windfall luck being on your side. Conflicts and ego clashes must be avoided. Always treat others with respect.
Social networking luck is good too. Singles may have the chance to meet their future partners. Married couples will enjoy a prosperous year. Overall, it's a year of accomplishments and possibilities.
Lucky colors: tangerine, cyan, and silver
7. Horse (1942, 1954, 1966, 1978, 1990, 2002, or 2014)
Hard work leads to wealth and development in all spheres of life. Wealth luck will put your mind at ease.
Take significant moves forward. It's possible to have good health — adopt a balanced lifestyle that incorporates meditation and relaxation whenever possible.
Career luck favors you. You have Investment Luck on your side. Be careful of the new acquaintances. Singles should be patient and quiet, while married couples should stay in the spotlight.
Lucky colors: green, blue, and red.
8. Sheep (1943, 1955, 1967, 1979, 1991, 2003, or 2015)
A fantastic year lies ahead. Your charisma may aid you in achieving your goals. Maintain a close watch on your health. Go outside to re-energize yourself.
It's a year of steady improvement and luck. You would be praised and encouraged, making this a great year for building and deepening bonds. Single people can marry.
Couples may make preparations for their child's birth. Overall, it is a year of good fortune, success, and prospects for growth.
Lucky colors: bright yellow.
8. Monkey (1944, 1956, 1968, 1980, 1992, 2004, or 2016)
The Supportive Star arrives this year, opening doors to new opportunities. If you have many duties, you could feel overwhelmed.
First and foremost, look after your health. Career luck is on your side and you will notice it. Don't let your money go to waste.
Please create a list of your goals and stick to them. This is a fantastic year to improve your relationship. Communication may aid in enhancing your relationship luck.
Lucky colors: white and baby blue.
9. Rooster (1945, 1957, 1969, 1981, 1993, 2005, or 2017)
Although this is a terrific year, the quantity of work you have to accomplish may make you ill. Focus on a healthy diet, exercise, and routine instead of social events.
You will likely be promoted and given new opportunities at work. Expect good fortune and a continuous flow of income thanks to windfall luck.
Communication skills will help you build a better bond. Singles might be able to find a suitable partner. Married couples should have an open and honest discussion.
Lucky colors: yellow.
10. Dog (1946, 1958, 1970, 1982, 1994, 2006, or 2018)
A pair of celestial stars assist the zodiac, delivering windfall luck to helpful ones. Maintain a positive outlook. Things will improve as the year progresses.
Make a more concerted effort to better your health. Maintain a calm demeanor. Problems will develop, but they will resolve themselves. You might feel a little overwhelmed.
Related Stories From YourTango:
Make an effort to enhance your relationships with your partners by reducing the time you spend talking. By not being provoked, you can avoid getting into disputes.
Lucky colors: yellow and grey.
11. Pig (1947, 1959, 1971, 1983, 1995, 2007, or 2019)
You will be surrounded by wealth and prosperity. Do not grow complacent. Be conscious of your words and deeds. This will be a year in which you will feel at peace. Make an effort to improve your physical appearance.
You will make great strides. Those in the business sphere will prosper. Wealth luck is good.
Your partner's confidence is secured after a year of good partnerships. Singles may meet someone in their social circle, and married couples may plan to expand their family.
Lucky colors: yellow and green
You can also try basic Feng shui to protect your home:
At the southwest corner of your home, hang a Metal Wulou or six Chinese coins with a red tassel, or a pair of Black obsidian Tortoise figurines can be placed (to overcome illness).
Six Rods Metal Wind Chime may be hung in the center of your home (to counter misfortune).
Red decor may be used at the east end of your house and the bedroom (to overcome disputes).
At the west end of the living room, you may put three Bamboo sterns in a vase with water (to protect the home from violence).
A water feature might be placed towards the north end of your home (to activate good luck).
By adapting Feng shui, you can sail through time smoothly and have an excellent and prosperous year.
More for You on YourTango:
Sidhharrth S. Kumaar is the Founder of NumroVani and a registered pharmacist turned Astro Numerologist. For more information, visit his website.