Astrology, Bitcoin and Tether
Astrology can date-stamp predictions about crossroads and turning points for Bitcoin, Robinhood, Evergrande – in fact any currency or financial, business or property entity. Tether is of course, tied to Bitcoin. So let the forecasting begin. If you are a fan of Robinhood (below) you'll be familiar with the YouTube Channel. I picked this up on my Twitter feed too, below.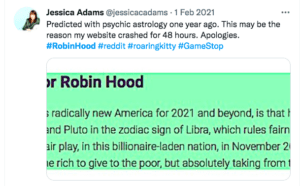 The proof of specific prediction, in financial astrology, is on this website. Back in 2021 I predicted the future of Robinhood on January 18th t0 22nd, 2022. "Circle that final week of January 2022 for share market drama." Well it came. There's really no big secret with horoscope prediction about Robinhood, Bitcoin, Tether, Evergrande and the rest. Just look to Scorpio (joint finance) and Taurus (solo finance) for clues. And if one country is the culprit, then look at that chart too. With Evergrande, which astrology also called (below) it was about China. This was reported right around the financial media, below, in real time. Evergrande Astrology Date-Stamped
I am writing this on January 31st 2022, so we still have about two weeks to go before the second Evergrande property collapse drama in China, but the first one was called (to the day) with astrology.
Quote:
"Watch the next backward pass on Thursday 27th January 2022 and the final one, Sunday 13th February 2022. This is a classic sign of market turmoil and it is going to pull in Chinese leadership." By the way, if you are not following me @jessicacadams this is where all the Bitcoin, Evergrande, Tether and Evergrande astrology updates happen. (Twitter post below).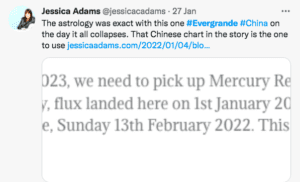 Bitcoin Date-Stamped
I have more questions about Bitcoin than any other financial matter on this website because people want to buy cheaply, or have bought cheaply, and want to sell at a profit. Good luck with that, because Bitcoin is the most unpredictable, volatile, erratic kind of money on the planet. It arrived with Uranus in Taurus, you see. In fact, The Financial Times, below, picked up the symbol unwittingly. This is partly why astrology, back on 9th February 2021, talking about 7th January a year into the future – could call the dramas of January 2022.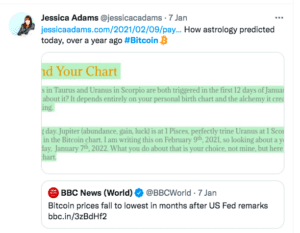 Watching the mainstream media, like the BBC (typically hostile to astrology) is always good entertainment for professional astrologers, as the news validates the horoscope predictions. Thus –
The BBC and Bitcoin on 7th January
Michael Saylor and Tether
We don't have a Rodden Rated natal chart for Tether's 'sailor' on stormy seas – Michael Saylor – so we can't use that data for him. If we were to trust his internet birthday of 4th February 1965 (with no birth time) in Lincoln, Nebraska we would find something likely – Jupiter at 17 Taurus opposite Neptune at 19 Scorpio – though. That's a big financial bubble. Unfortunately when you see that opposition (if indeed this is his correct chart) you see not so much a pop as an explosion. Repeatedly.
Tether – Possible Astrology Chart Birthdates
9th July 2014
Realcoin is launched by Brock Pierce, former Disney child actor at 5.02am PDT. This gives us Saturn at 16 Scorpio. Data here.
5th September 2014
Tether Holdings Limited is incorporated in the British Virgin Islands. This gives us Mars 24 Scorpio, Ceres 9 Scorpio, Saturn 18 Scorpio. It's very close to the chart below. Data here.
8th September 2014
Tether Limited is incorporated in Hong Kong. Data here.
This gives us Saturn 18 Scorpio, Mars 26 Scorpio, Ceres 10 Scorpio. This is a significant chart.
6th October 2014
First Tether tokens (called Realcoin) issued on the Bitcoin blockchain. Data here. This gives us Mercury Retrograde at 2 Scorpio, Ceres and Saturn both at 21 Scorpio. Another significant chart.
20th November 2014
Coins renamed Tether.
This chart gives us Saturn 26 Scorpio, Mercury 17 Scorpio, Sun 27 Scorpio. Again, a significant chart. Data here.
March 15th 2017
Tether International Limited incorporated in the British Virgin Islands. Tether Operations Limited incorporated, same day. This date gives us Ceres 12 Taurus, Mars 3 Taurus. We're seeing patterns here – another significant chart.
Tether Gold Launch Chart
On January 24th 2020 – Tether launched a gold-based stablecoin. Data here. Stable? Hardly. Not with that chart. Data here. Uranus was at 2 Taurus on January 24th 2020. Ceres was at 27 Capricorn on January 24th, too and Capricorn rules the men at the top of Tether like Michael J. Saylor. Watch Tether Gold. I am sure you can see how the same degrees in the money signs, Taurus and Scorpio, are repeating. Four of the key dates are below on U.S. government paperwork:
Key Test Dates for Tether

July 26th 2021
U.S. Department of Justice opens a probe into alleged bank fraud committed by Tether.
October 15th 2021
Tether fined $41 million for false claims
Tether and Bitcoin Manipulation
This is the big one. On 20th November 2018, Bloomberg reported that U.S. federal prosecutors were investigating whether Tether was used to manipulate the price of bitcoin. The Sun at 27 Scorpio and Ceres at 3 Scorpio are the triggers that day, because Scorpio rules banks. The Sun is publicity. Ceres is the deep change in the balance of power.
Charts With the Same Patterns
Which chart shows factors at both 27 and 3 degrees? No single chart. But then, there are several 'Tethers'. So we would expect 27 or 3 degree patterns to show up in some. And they do. This is how, in a moment, we can predict the future of Tether.
The 6th October Tether Chart
The 6th October 2014 Tether Chart shows Mercury Retrograde at 2 Scorpio. That's close to 3 Scorpio. This is the day the first tokens were issued.
The 20th November Tether Chart
The 20th November 2014 Tether chart shows the Sun at 27 Scorpio. That's exact. This is the official naming or Christening chart for Tether. The day it was renamed.
The March 15th Tether Chart
The March 15th 2017 Tether chart gives us Mars at 3 Taurus. That's exact. This is the Tether astrology chart set for the British Virgin Islands incorporation of Tether International Limited.
Four Tether Charts Chime Together
Given that the hotspots across the four Tether astrology charts are 3 and 27 degrees of Taurus/Scorpio, or relevant signs (say, ruling the businessmen involved) these horoscopes chime together. Let's test some more dates:
Tether Launches a Euro-Based Stablecoin
August 16th 2016: Ceres was at 3 Taurus on August 3rd to 9th 2016. Jupiter was at 27 Virgo on August 27th to 30th.
Attackers Steal $30 million+ in Tether Hack
November 20th 2017. Saturn was at 27 Sagittarius on November 25th t0 30th 2017. Venus was at 27 Scorpio on November 29th. Mercury was at 27 Sagittarius on November 28th, 29th. The Scorpio Generations and Tether
Billions more people than usual have Scorpio facors in their chart, who are alive today. It's a quirk of astrology. The odds are high – you do. You can read more about the Taurus-Scorpio cycles and Scorpio factors here. We are all going to be affected (the ripple effect) by Tether. Funny how the Scorpio constellation looks like a dollar sign, on its side.
The Future of Tether
We're looking for transits at 3 and/or 27 Scorpio and/or Taurus to reveal the future of Tether. Rare, slow-moving factors like Uranus and the North Node and South Node are the biggest factors, because they make history. This is really close as I write this on Monday 31st January 2022.
The Pile-Up at 27 Degrees in February 2022
Between Sunday 6th February and Wednesday 16th February 2022, the True North Node goes to 27 Taurus and the True South Node goes to 27 Scorpio. This is extremely unusual. Pluto is at 27 Capricorn in exactly the same time-frame. Narrowing this down, we find Ceres has been at 27 Taurus just a few weeks before – January 12th to 18th 2022. Crucially, Mercury Retrograde at 27 Capricorn turns up on Saturday 12th February.
A Tether Prediction for 12th February 2022
Very close to Saturday 12th February 2022, Tether will hit an historic crossroads. Specifically, because back on 8th September 2014 when Tether Limited was incorporated in Hong Kong it gave us a chart set to be triggered. That version of Tether 'born' with Saturn 18 Scorpio, Mars 26 Scorpio, Ceres 10 Scorpio will have its Mars triggered near 12th February 2022. Transiting Uranus (shock) at 11 Taurus will also be in an opposition to natal Ceres at 10 Scorpio. Tether Gold is also pulled into this pattern in February 2022. Saturday is obviously a weekend, so we could say Friday 11th and Monday 13th February for Tether.
October 2022 and Tether? Happy Halloween or not? Financial astrologer Kate Silas is one of many experts in the field looking at that eclpise on 25th October. There will be a cover-up in some or all of the world economy on Tuesday 25th October 2022 as we hit a New Moon Eclipse at 2 Scorpio. This will directly involve Tether. It's very close to the 3 degree hotspot. October 2022 is a key month for Tether as Pluto is at 26 Capricorn, close to 27 (the hotspot degree) and Jupiter is at 3 Aries.
More eclipse-watching ahead, in May and June 2023. Huge drama in the Tether story is also shown in astrology in May and June 2023 – as Jupiter goes to 3 Taurus for the first time in 12 years. Ceres goes to 27 Virgo. The Sun goes to 27 Scorpio. Mercury goes to 27 Taurus. Neptune goes to 27 Pisces. The actual eclipse in Scorpio, the money sign, is due May 5th 2023.
Tether in August 2024? Again, financial astrologers are watching August 2024 because we find Neptune at the end of Pisces and Pluto at the start of Aquarius. Historic shifts tend to produce historic political and sharemarket shifts. Moving ahead in time, we find Uranus (shock) at 27 Taurus (economy, currency) in August 2024 on his first pass. He remains at 27 Taurus, such a hotspot in four of the Tether charts, in September 2024.
Tether in May 2025
Uranus at 27 Taurus, Pluto at 3 Aquarius, Saturn at 27 Pisces, Jupiter at 27 Gemini, and the nodes at 26 Pisces-Virgo (very close) suggests the point of no return for Tether in May 2025. This is either the beginning of the end, or the beginning of the beginning. Tether, as we will see by 2025, together with Bitcoin, is a cautionary tale about values. So – ethics, principles and all that money cannot buy. We are now in the same cycle as the last war. Uranus in Taurus tends to show hollow values up. This is very old karma here, going right back to 1938, 1939 (thanks to the nodes in Taurus/Scorpio too) and old balance sheets rule.
Main Image: Kit/Unsplash.