2022 Psychic and Astrology Predictions
Thanks to the hundreds of you who joined Gina Lazenby and I at The Conscious Cafe, to look at the psychic astrology of 2022. We glanced back at the 2021 event, on YouTube, where I predicted children for PM Boris Johnson (he had his second most recent child in 2021) and a cover-up involving the Ukraine. Well, that has come to pass as you read this. Sometimes the Tarot cards which turn up in these events say it all.
What to Expect From 2022
In 2022 we go through the last full year of Pluto in Capricorn, so this is the last full year that particular Prime Ministers, Presidents, Premiers and other politicians will be in power. Pluto tends to produce resignations, defeat or ill health at the end of the cycle, for particular power-players (if they have had too much control). It's a rule with this planet.
COVID-19 in 2022
I predicted a virus, twice, back in 2019 as most of you know. It was date-stamped to two events. The first death in China (January 10th 2020) and WHO declaring a pandemic (March 2020: I was two days out with the announcement).
The virus obviously remains in 2022 – one look at the rising graphs of cases with Omicron tell you that. But what's the long-term with this pandemic? There is no vaccine. Just to repeat another old prediction from The Daily Mail in October 2020, a silver bullet injection does not exist and it never will.
What we do have are ongoing mutations of COVID-19 and ongoing quests for 'the solution' which may or may not be there. An effective vaccine is a goldmine. But does it even exist? I asked The Astrology Oracle about this in 2020 when Pfizer, AstraZeneca and Moderna were all publicising 'vaccines'. At that point we assumed these would be a single needle in the arm, but in Israel full vaccination is now three and they are considering a fourth. The Astrology Oracle suggested confusion, wishing and hoping, a gamble, a quest. Not what we really wanted, which was an answer. There may be money in it. Or not.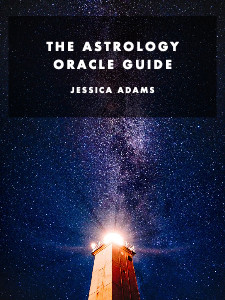 The New Travel and the New Planet
In place of globalisation, and in the face of COVID-19, we end up with new travel on a new planet. It takes time but peaking in 2026 and going past 2030, electric planes will replace failed kerosene airlines (watch Virgin and Richard Branson closely). Electric shared car and bike schemes will be in every suburb or village. Travel will become as it was in the 1950's. Rare, special, luxurious, unforgettable. This replaces the old cheap model.
As we saw at The Conscious Cafe, the future is electric (Uranus in Gemini translates as 'electric public transport'). With Pluto in Aquarius at the same time (people power in the group) these ways of getting around your area will be shared.
The New Knowledge Exchange
The combination of the building Gemini weather (Mars and Ceres in Gemini in 2022, with Uranus in Gemini from 2026) is also about digital knowledge. This is about the new you, online (your virtual self) walking and talking with others from across the planet in virtual spaces. Immediate language translation or even the invention of a new global language (children will pioneer this) makes knowledge exchange in the Twenties intriguing. Early signs show in 2022.
This perfect storm is historic. We literally have to go back to the year 1351 to see parallels. This is what else we can expect:
*The new inner economy, as Gina Lazenby describes it. Riches inside from meditation, for example, or spirituality.
*Time at home, or time alone, will be rich in benefits in 2022.
*Your new virtual self online will be able to choose faces, wardrobes, wigs and nicknames – plural.
*Issues about identity, privacy, vaccine passports and (Aries rules the face) Facebook will be battled and won by 2023.
*Keep a pantry and supplies because we will see rationing and supply shortages in 2022, 2023.
*Use the cycle to negotiate what you want from an employer – working from home, a short week, job-share and so on.
*Local cryptocurrency will take off in 2022 and be normal by 2026: your suburb's digital 'dollars' are coming.
*Expect a fierce local resistance to globalisation, mass tourism and COVID-19 super-spreading in 2022. Expect a victory.
COVID CLASS ACTION LAWSUITS ARE COMING
I predicted this in my book, Essential Astrology for Women in 2006 (HarperCollins). I knew it would come.
Many people at the Conscious Cafe 2022 event followed up with me later, asking about politicians and businessmen, and the Pluto in Capricorn cycle. Would they go down for their crimes against people? I actually replied to this question 15 years ago!
"Corporations will crumble and fall. Anything with a big pyramid structure and massive skyscraper towers is vulnerable. Check where your pensions or superannuation funds are. A crisis involving retirement, old age and large corporations is extremely likely, astrologically speaking, as Pluto goes through Capricorn. Corporations as we know them in the first ten years of the twenty-first century may be unrecognizable after 2025. They are very likely to face class-action lawsuits for manslaughter or other serious crimes." This is the year 2022 and afterwards – so watch this space.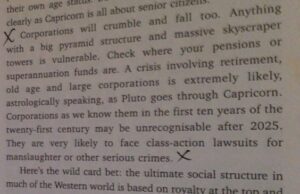 Your Comments and Questions
If you are a Premium Member, your natal chart appears when I pick up your questions in Comments. For specific, private, personal questions about your life, give yourself a three-way reading (if you are a Premium Member now).