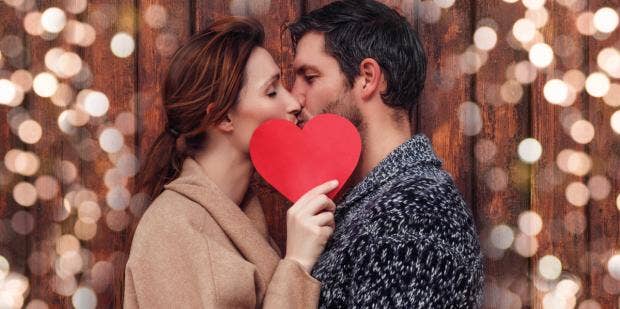 Ask yourself, are you feeling lucky today? Because you might be in for a very lucky break where your love life is concerned.
There's lots of ways this luck could play out, but one thing is for sure, you dodged a bullet this time. Stay alert and keen so that you can put together the reasons why you got so lucky this time around.
Moon Conjunct Mars In Sagittarius is what brings the luck, as it's a super compassionate, but super tough transit, that also happens to make sense in your world, today.
So, we're looking at the strength and determination of a good old fashioned Mars transit, mixed with the optimism and hope of a Sagittarius placement.
The whole thing spells 'luck in love' and for certain signs, it's just the thing you need.
So, whether you are looking for someone to love, or you're already involved, your luck in love is about to come in bold at the top, leaving you with a smooth finish.
Zodiac Signs Whose Luck In Love Improves During The Moon Conjunct Mars In Sagittarius Starting December 4 – 5, 2021:
Taurus
(April 20 – May 20)
There's a good chance that you are one of those folks who is never without a significant other, and part of what makes that a reality is because you can't live without a steady partner.
You are a very erotic being, hey, it's only natural, and so when 'luck' comes your way, thanks to the Moon Conjunct Mars In Sagittarius, it shows up in the form of intimacy and profound physical connection.
You work that Mars energy for all it's worth, and your partner has no complaints when you get like this. If you've had it in your mind to up the ante on your intimate life.
This is the week where it all starts. While you don't necessarily believe that you have to love the person you're having an intimate relationship with by the end of this transit, both intimacy and love will be one and the same to you. Sounds romantic!
Leo
(July 23 – August 22)
Nothing like a fellow Fire sign to rev up your romantic life, and today you're looking at the effects of both Mars, which brings in Aries energy, AND Sagittarius, which completes the transit of the Moon Conjunct Mars In Sagittarius.
Two Fire sign influences for you, Leo, and that means good fortune is heading your way.
Thankfully, this luck shows up as love and kindness. And intimacy. You are someone who likes to express themselves through physical and acts of kindness to your lover, of course.
The feeling is good between the two of you, and you feel safe and confident enough to perhaps introduce a new 'romantic' idea to your partner.
They go for it, because they trust you AND they, too, feel the passion that awaits. Two adults consenting to having a great time together sounds like luck to me!
Sagittarius
(November 22 – December 21)
Related Stories From YourTango:
Luck in love can only mean one thing to you, Sagittarius, and that's about finding someone in the world who is just like you. Some believe that's the wrong way to go, that long-term relationships need opposite personality types in order for it to work, but not for you.
And this transit: Moon Conjunct Mars In Sagittarius is where you not only come to know that your own truth is made up of something entirely different, you will be lucky enough to find that person, during this very transit.
This is the way it goes for you. You do NOT want someone who is your opposite, in fact, if you could date yourself, you would, because you're the only one who could possibly understand the mechanism that makes up a Sagittarius lover. And there they are, another version of you, all ready for love. Can this be real? Oh hell yes it can.
More for You on YourTango:
Ruby Miranda has been interpreting I Ching, Tarot, Runes, and Astrology since childhood. She gives private readings and has been working as an intuitive reader for over 20 years. Follow her on Twitter: Ruby Miranda